"SHIP" is the name of a new business facility that has opened in the Shinagawa area which features excellent domestic and global access.
The SHIP concept is based on Shinagawa, which is a coastal city and thus can be characterized by"ships." SHIP provides the opportunity to come in contact with both Japanese and Foreign professional entrepreneurial creators, for example engineers or designers, in addition to people from venture, small- or middle-sized and major companies that are seeking further growth. In supporting next-generation industry leaders, the hub facility has an event hall, offices, an open lounge, and a workshop area equipped with a 3D printer, where innovative ideas can arise.
It is increasingly difficult for a single company nowadays to achieve rapid growth by increasing its own market value. The Shinagawa area location, however, includes both major domestic and foreign manufacturers, thereby allowing access to a variety of support, including subcontractors and IT companies, and thus providing the area with a major advantage.
Utilizing all the advantages of the area will enable diverse types of support to be provided to companies and entrepreneurs who can then create globally astonishing devices or develop services that will enrich people's daily lives.
We believe SHIP can provide you with new encounters and access to communities that can make your business more valuable.

Would you like to join us on this voyage that is sure to make the world a more exciting place?
*SHIP = an abbreviation of Shinagawa Industrial Platform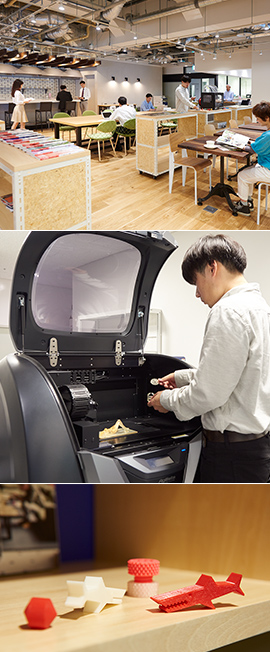 SPACE
The Shinagawa Industrial Platform will be situated on the third and fourth floors of Building C1. The facility on the fourth floor consists of a membership-based open lounge area that allows people from different industries to communicate, a space for offices that support venture companies, and a workshop area equipped with a 3D printer, in addition to many other useful features. The facility on the third floor is an event hall that is available for both seminars and exhibitions.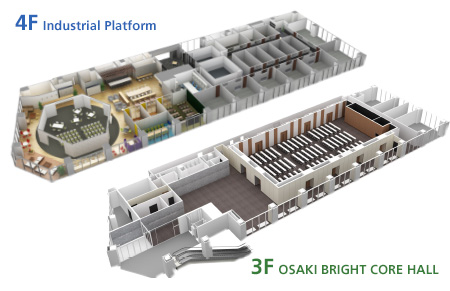 Open Lounge Area
A co-working space that is exclusively available to monthly members, and fully equipped with Wi-Fi access. It offers not only an extremely business-friendly environment, but also support for exchanges and cooperation to take place between members and provide them with opportunities to start new businesses.
Office
In supporting venture companies to grow, 16 business offices of various sizes are available, all with one-stop support services provided by incubation managers.
Multi-purpose room
A unique hexagonal room that makes exchange seminars and workshops (for up to 120 people) simple, but an open space that is easily usable for a variety of purposes.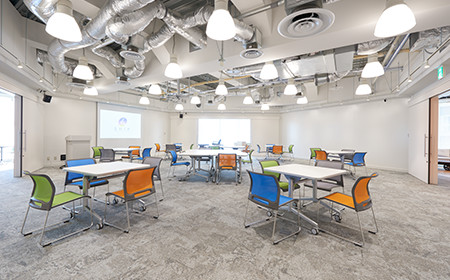 Workshop
The workshop area is equipped with a 3D printer and a laser cutter, etc. and is staffed with engineers that can provide support for prototyping in the field of manufacturing.
Meeting room for rent
Four different meeting rooms (12.2m2to 45.8m2) are available; some of whose walls work as blackboards or whiteboards. The rooms can be used for meetings, brainstorming meetings, and seminars, etc.
ACCESS
3rd and 4th floors, 5-15, 5-chome, Kitashinagawa, Shinagawa-ku